Our First-Rate Driveway Cleaning Remove Stains From Your London Concrete Surfaces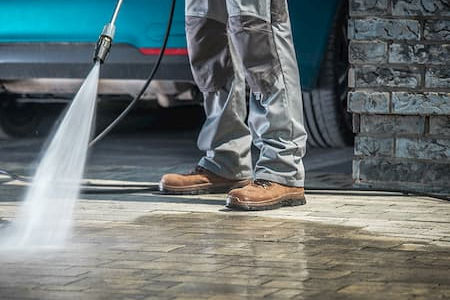 There's nothing like a fresh driveway cleaning to restore the beauty of your London area home or business in an hour or less. This jet washing service is able to remove all manners of stains and blemishes from your driveway quickly and thoroughly. Just some of the blemishes that don't stand a chance against driveway cleaning include the following:
Oil
Transmission fluid
Rust
Hard water
Pollen
Algae
Bird droppings
Paint
Of course, to enjoy the best results from this work, you need to leave it in the hands of an experienced professional. That's why you need to look to Swift Waste Removals when you're ready to get your driveway cleaned. With our experience and access to top-tier resources, we provide reliable pressure washing that will get your home looking like new once more in no time.
There Are Compelling Reasons to Have Your Driveway Professionally Cleaned
Maybe you're not particularly bothered by some stains here and there on your driveway - but you just might be bothered if you know all the good things you could otherwise enjoy with a clean driveway. Indeed, you'll find professional driveway cleaning to be a solid investment to make every year, as this service will help to:
Improve your curb appeal
Extend the life of your driveway
Remove harmful mold and algae growths
Reduce the likelihood that you'll slip and fall on your driveway
Maintain your property value
Look to Our London-Based Team for All of Your Jet Washing Needs
We take pride in ensuring our friends and neighbors can enjoy stunning homes and businesses, and that pride is evident in all of the jet washing services we provide. From pressure washing to driveway cleaning and even graffiti removal, we aren't satisfied with the quality of our work until you are.
In fact, you can see for yourself the quality of workmanship we bring to each and every job we tackle. Just take a look at our latest project gallery. In there, you'll see that we provide only the highest standard of cleanliness to every job we tackle. Give us a call today if you're ready to enjoy those results yourself.